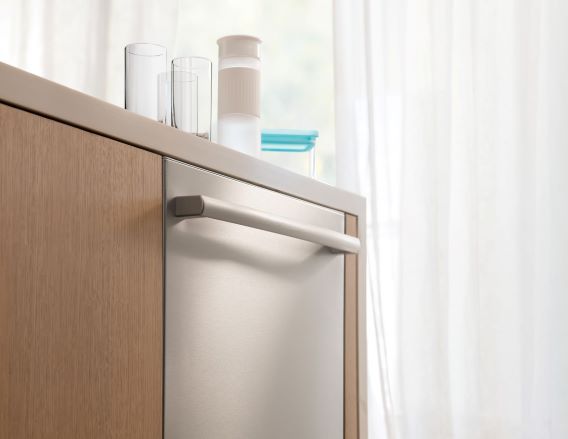 "The best dishwasher we've ever tested"
BEST OF YEAR and EDITORS' CHOICE Awards
Reviewed.com, January 2020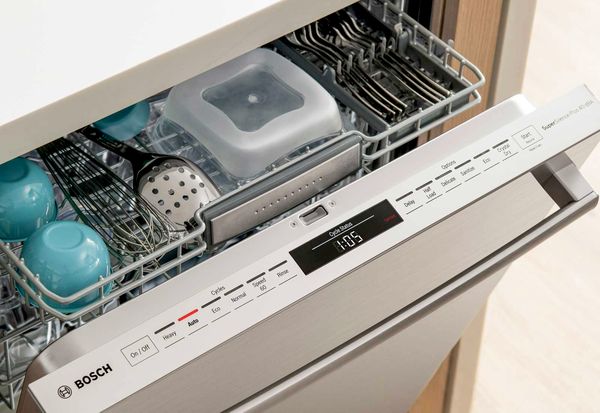 Introducing CrystalDry™
The ultimate dry, including plastics
Our new patented CrystalDry™ technology delivers 60% better drying results.* Available on our 800 Series and select Benchmark Series dishwashers.
*Based on aggregate average drying performance of Bosch Dishwashers with CrystalDry™ on combined household load including plastics, glass, steel, and porcelain as compared to Bosch Dishwashers with PureDry™. Drying performance may vary by dish type.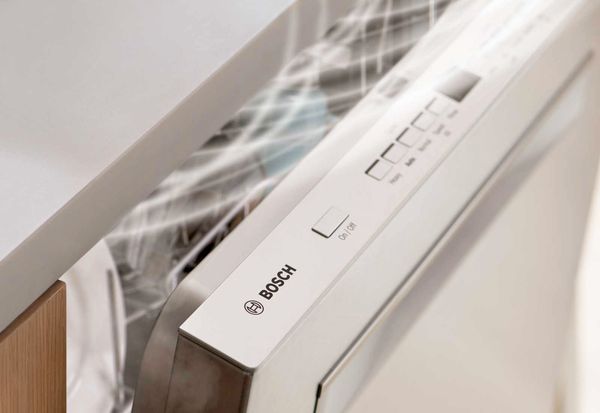 Introducing AutoAir™
A little fresh air equals a lot more dry
AutoAir™ on the new Bosch 500 Series dishwashers automatically releases the door at the end of the cycle to let moisture escape and fresh air in. Now, dry your dishes with a whole new air of confidence.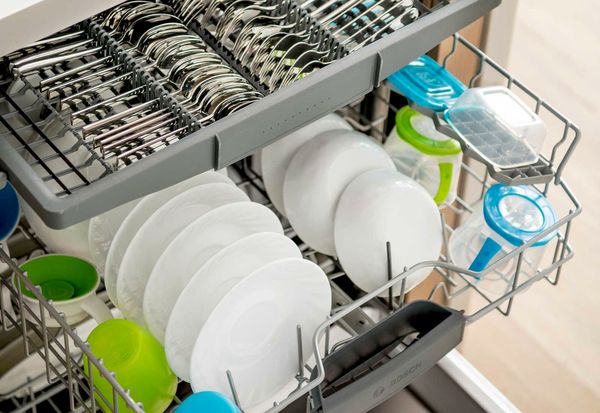 Simply sanitized with PureDry™ technology
Sanitize Option
All Bosch dishwashers have the PureDry™ system which features a Sanitize Option that ends each cycle with an extra hot wash, heating the water to 162?F which helps thoroughly clean, sanitize, and dry dishes.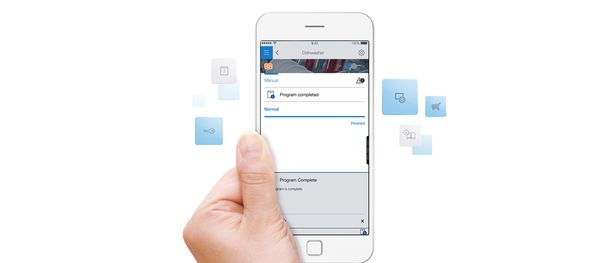 Isn't it time your phone did the dishes?
Now your smartphone can even do dishes.
Forgot to start the dishwasher? Home Connect has you covered. Using the smartphone app, you can start a dishwasher cycle remotely from anywhere,* for the ultimate in convenience.
*Connectivity and speed varies based on network and WiFi levels.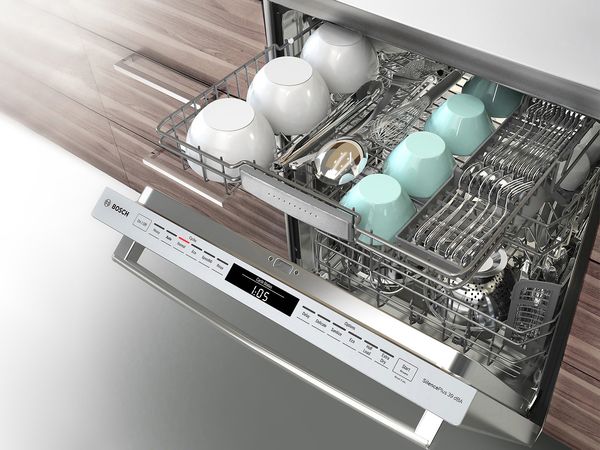 Quiet, sleek, refined design.
Bosch top control dishwashers feature hidden controls for a sleek, refined look in your kitchen with bar, pocket or scoop handle options. Our ingenious German engineering makes Bosch the quietest dishwasher brand in North America*. In fact, our dishwashers are so quiet, we've added a light to let you know a cycle is running. Three racks of flexible loading space effortlessly accommodates chef's tools, measuring cups, stemware and bulky items.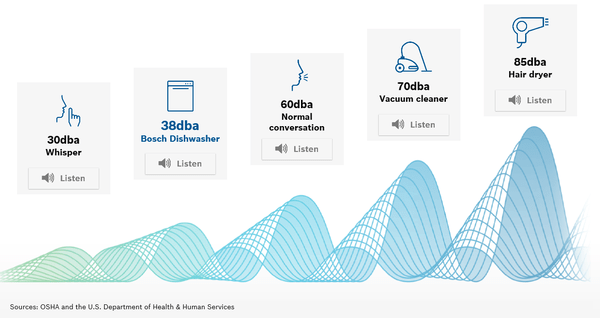 Always Seen. Never heard.
At Bosch, quiet operation is just as important as sparkling clean dishes. Our ingenious German engineering makes Bosch the quietest dishwasher brand in North America*.
For you, that means never having to wait until going to bed to run the dishwasher. And when hosting a dinner party you can start the dishes right after dinner, instead of waiting until everyone leaves. Because life doesn't have to stop just because your dishes need to be cleaned.
*Based on an average of sound ratings of 24" full size stainless steel tub dishwashers contained in major brand's websites. Major brands defined as TraQline Top 5 Market Share. December 2016.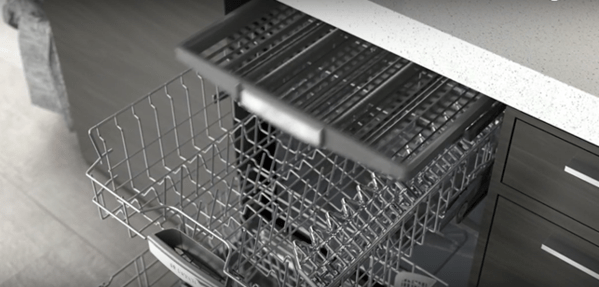 Three racks. One easy decision.
With three different designs and 30% more loading area*, Bosch third racks give you the additional flexibilty and capacity you need. From our standard 3rd rack in our 300 Series models, to our Flexible 3rd Rack in our 500 & 800 Series models, to our brand new Innovation - the MyWay™ rack - on our Benchmark® models, Bosch allows you to load the dishes your way.
*Compared to Bosch dishwasher with two racks.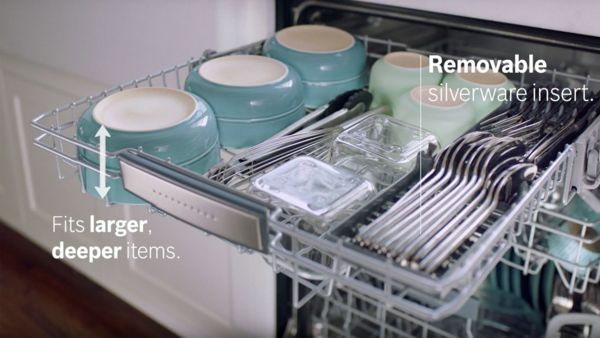 Load the way you want, how you want.
The state-of-the -art in dishwasher performance, our Benchmark® Series offers a number of exclusive best-in-class features designed to make your life in the kitchen easier. Everything from a verstaile MyWay™ rack, ultra-quiet performance to a TimeLight that shows the time remaining in your wash cycle.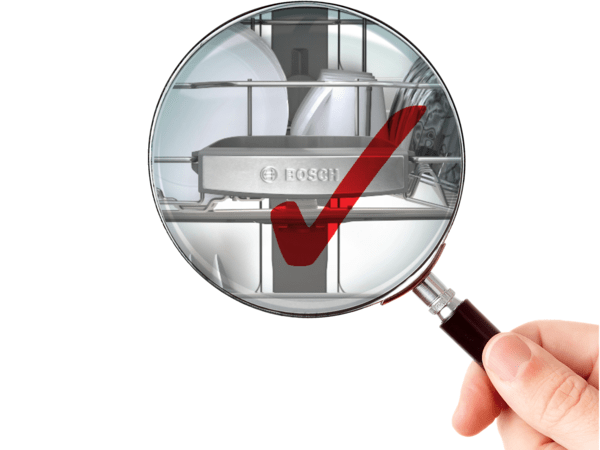 The purpose of endless tests: satisfied customers.
Our dishwashers go through 485 rigorous quality checks before leaving our factory. In fact, we even run water through the dishwashers to make sure they work properly. Water spots in your new dishwasher are proof that your dishwasher passed the test. Ultimately, a dishwasher from Bosch means one thing: reliability.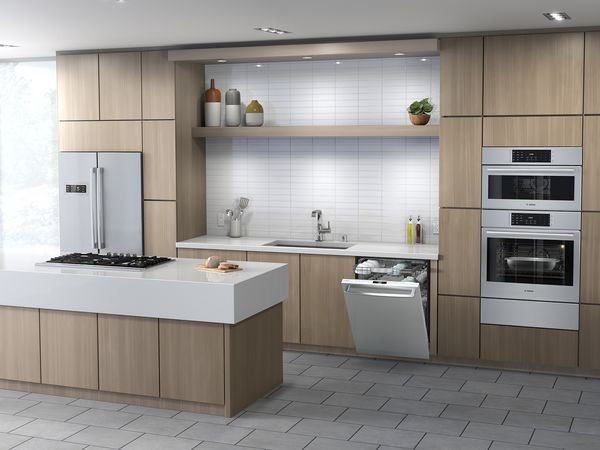 There's a Bosch for everyone.
Our German-engineered dishwashers not only feature up to three racks of flexible loading space, they also incorporate 18 unique sound reducing technologies, making Bosch the quietest dishwasher brand in North America*. And every Bosch dishwasher features sleek, flush, European styling that works in harmony with a variety of kitchen styles.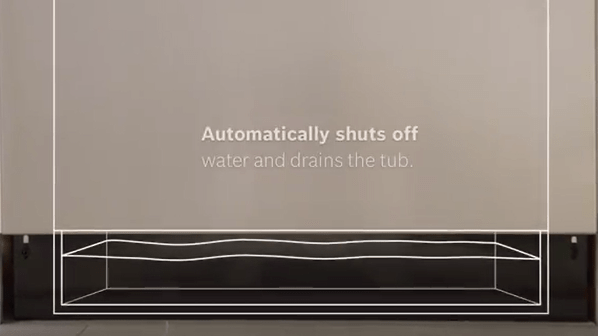 24/7 Aquastop® Leak Protection
An advanced leak prevention and containment system, Aquastop® features sensors that automatically close the water inlet and activate the drain pump if a possible leak is detected - even if you are not at home. In addition, a solid molded base contains leaks in the unlikely event that one occurs. This feature works 24/7, even when the dishwasher is not running.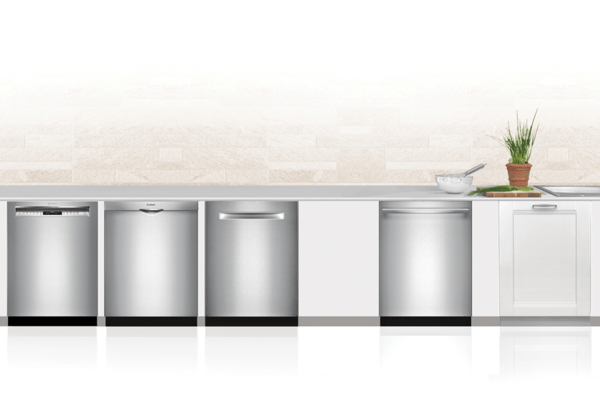 Designed to blend in.
Our pocket handle design offers a clean look that integrates seamlessly into your kitchen without a handle obtruding from the fascia. Available in stainless steel, black and white.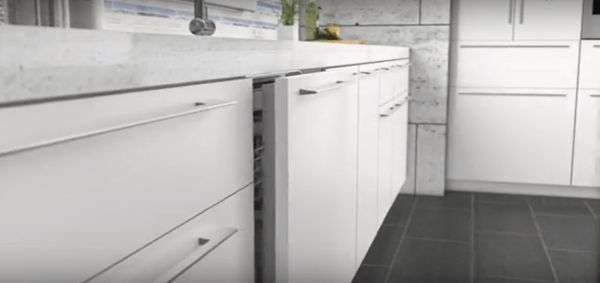 You won't see it or hear it.
Seamlessly integrate your Bosch dishwasher into your kitchen by matching it to your kitchen's custom cabinetry. The unique design allows for a fully flush install for a new level of sophistication. These dishwashers are so quiet, we've added a light to let you know a cycle is running. Models with a flexible third rack provide extra room for ramekins, measuring cups and extra-large utensils while adjustable tines lower to fit awkward, bulky items.